Overview
By entering your Sales Orders in Vinsight, we will be able to calculate the WET tax you owe the ATO, including wholesale, retail and own use tax.  Filing a WET Assessment at the end of each tax period will show you the total WET tax you owe or are owed from the ATO, with lots of detail available to you about the process we used to calculate each stage.
Here is an example WET Assessment result that you would see in Vinsight, this is all calculated for you automatically when you create a new assessment:
In this document:
How to use Vinsight to calculate your WET tax – Overview
This is a brief overview of what needs to be done in Vinsight to get WET Tax calculating correctly, for more detailed step by step instructions, see the next section.
1. Check your contacts are set up with the correct WET tax attributes:
They will need to have "WET Liable" turned on, and if they are a wholesale customer, you will need to supply their ABN.
You must also make sure their Country is set to "Australia", otherwise any orders to them will be treated as exports and not be liable for WET Tax.
Lastly make sure they have the "Customer" attribute turned on, so that you can sell to them.
2. Check your finished wine stock items have the correct WET tax attributes and tax rates:
The "WET Liable", "Can Sell" and "GST Liable" attributes will need to be turned on.
Toggling the "Wet Liable" attribute to 'yes', will create a WET tax rate in the 'Other Sales Taxes' part of the 'Sales, Purchases and Taxes' area of the stock item.
3. Now you can raise Sales Orders to those customers with your finished wine, and the WET tax will be calculated for each order.
If the Sales Order is deemed  "wholesale", then the WET tax can be calculated straight away, and is shown on the invoice as a concrete amount.
If the Sales Order is not deemed "wholesale", then there are multiple options for calculating WET tax, and these will have to be done at the end of the tax period. The invoice will not show any amount for WET tax when you print it out. This is because people buying retail wine do not need to know anything about the WET tax that was included in the sale.
4. At the end of the tax period, you create a "WET Assessment" for the period. It will look up every sales order within the defined period that needs WET tax calculated and accumulate everything for you in one place. The assessment will also choose different calculation methods for different wines, in order to minimize the total amount of tax you have to pay.
How to use Vinsight to calculate your WET tax – Detailed
This is a detailed, step by step guide for making sure Vinsight is calculating your WET tax correctly.
Setting up your Customers
The first step is to set up your customers.  Go to the Contacts area in Vinsight and do these steps for any customer that needs to have WET Tax calculated:
1. View the Contact in "edit" mode, or create a new Contact if they do not exist. While viewing the list of Contacts, you can create a new "New", or edit an existing "edit" link that is next to the Contact:
2. Once you are in the Contact detail view, you will need to do a few things: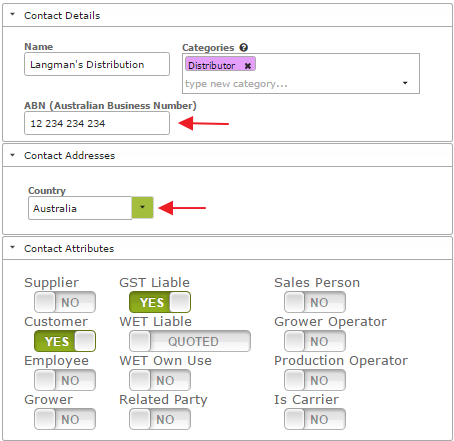 If the Contact has an ABN number, ensure this is set.  Setting the ABN number will identify the contact as a business and will cause the WET Liable radio button in the Contact Attributes area to toggle between 'YES' and 'QUOTED'.  If not set, the WET Liable button will toggle between 'YES' and 'NO'.
Ensure the 'Customer' attribute is set to 'YES'.
If the customer is buying under quote, set the 'WET Liable' attribute to 'QUOTED'.  Otherwise, set to 'YES'.
If the Contact is a Related Party, ensure this attribute is set.
Similarly ensure 'WET Own Use' is set if relevant.
3. Then make sure you press Save. You will have to do this for any contact you wish to sell WET Tax Liable wine to. You don't have to do them all at once though, you can just set them up as you need them.
Setting up your Stock Items
You will have to set up your finished wine correctly for Vinsight to know you need to pay WET Tax on it. The Stock Item must be set as "WET Tax Liable" and you should also set the "WET Tax Rate". You will probably also need to turn on "Can Sell" and "GST Liable":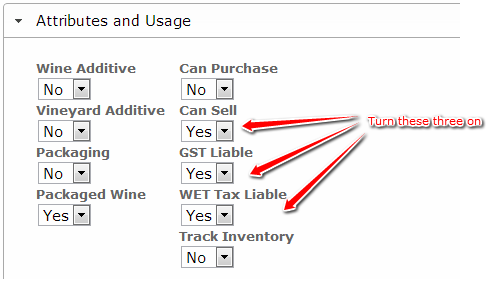 If this is a new Stock Item, now would also be a good time to set up the prices below:

Then press "Save". You will need to set this up on all finished wine that you need to pay WET Tax for.
Raising Sales Orders
Now you are ready to start raising Sales Orders.  If you have everything set up correctly, the Sales Order should automatically determine it's own correct WET Tax category, which is displayed in the Sub Totals area at the bottom.
Here is an example wholesale Sales Order: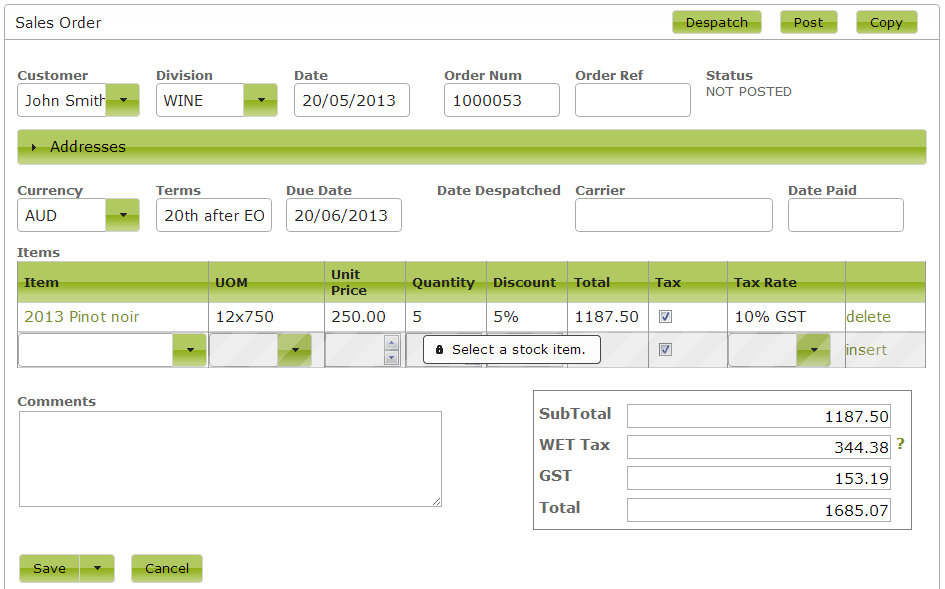 As you can see, it has calculated the WET Tax amount straight away for this order. This is because the order is deemed as "wholesale". You can view what WET Tax category a Sales Order falls in to by clicking the

icon next to the WET Tax value: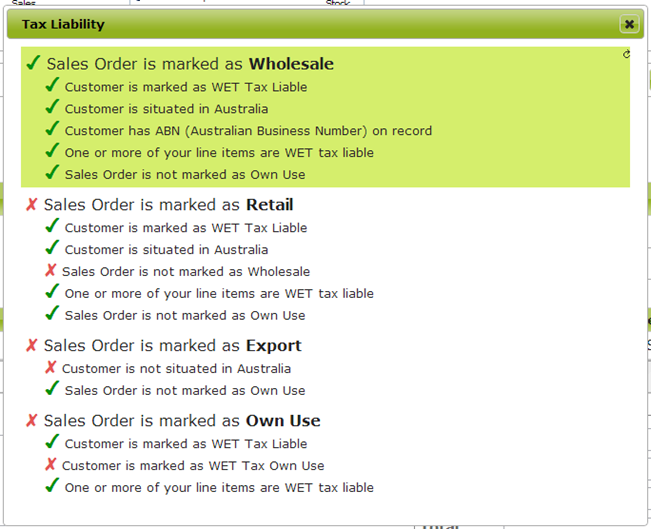 If you are ever unsure about what is happening with the WET tax of any Sales Order, this dialog will break down exactly why a Sales Order is in a particular category. For example if this Sales Order should actually be Retail, you would know from this dialog that you have to remove the ABN from the customer to switch the category.
If you do have a Retail order, this is what you will see in the Sub Totals area:

If you see this, the WET Tax will not be shown on any printouts of the Sales Order:

Filing your WET Assessment
The last step is to file your Business Activity Statement (BAS) with the ATO.  To do this, you need to know how much WET Tax you owe for the given period.  This is calculated automatically by Vinsight when you create a new "WET Assessment".
To do this, click WET Assessments in the Account > Transactions area. This will show you a list of the WET Assessments you have filed. Press "New" to create a new assessment. You will see something similar to this: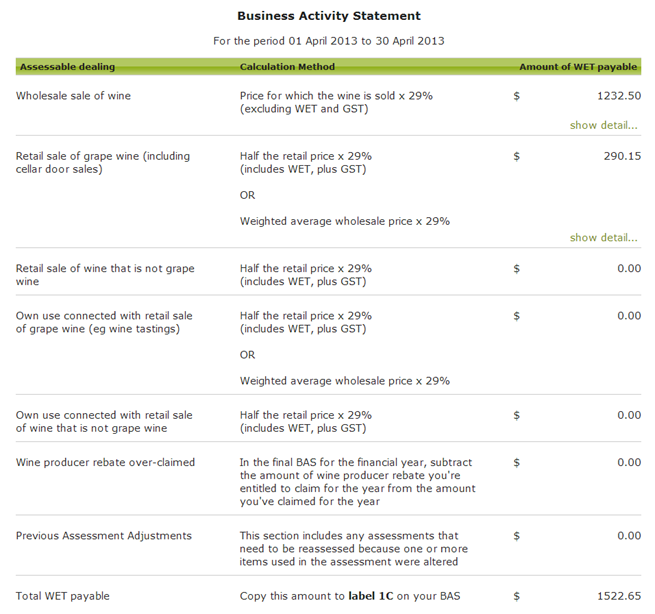 Each section allows you to drill in and see exactly how the tax is accumulated. Press

on any section to see what Sales Orders make up that tax:

Pressing the

button will expand the detail for a particular Sales Order, and break down for you exactly how the WET tax was calculated. With a Wholesale order, this is pretty straight forward: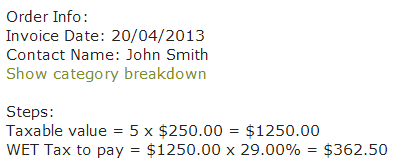 If you view the calculations for a Retail order, you will get to see which method of calculating WET tax was picked, and how much you save by not choosing the other method: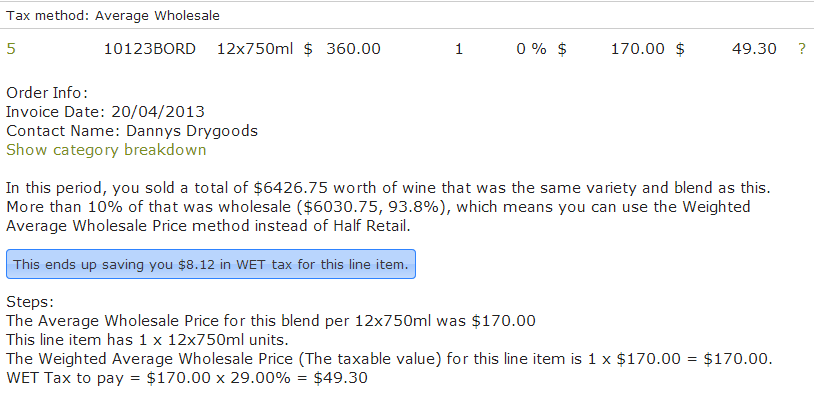 Once you have gone through and checked that your Sales Orders are correctly categorized, you can file your BAS with the ATO, using the value calculated by the WET Assessment in the
label 1C
on your BAS Form:

Once you have filed your BAS with the ATO, then you should come back to Vinsight and press

at the bottom of the WET Assessment to lock in the data for later viewing. This step is crucial, as it means that if you need to change something on a Sales Order in the past, Vinsight will be able to look up the filed assessments and give you an adjusted value to pay based on the WET you have already paid for that Sales Order. It will also give you a very detailed audit trail when you need to prove you have paid the correct amount of tax in a dispute.
Changing Sales Orders that have already had WET paid
You might come across a need to alter a Sales Order from the past that has already had it's WET paid to the ATO. In this case, simply change the Sales Order to be correct. Any adjustments will be picked up next time you file a WET Assessment, and will appear in there in an easy to understand format about what has changed and why.
This will also happen if you change a Customer in such a way that affects any Sales Orders WET Tax category, or if you create a new Sales Order for a tax period that has already been filed.
All these changes will be shown under "Previous Assessment Adjustments" on a new WET Assessment. If you expand the detail, you can see Assessment you have already paid, and what their revised amounts are. Pressing the

button on these will show the new WET Assessment detail, highlighting any changes from the previous version: