Home » Gambling and Liquor Regulation – Annual Liquor Return
Overview
Vinsight can help you with your Annual Liquor Return for The Victorian Commission for Gambling and Liquor Regulation as well as equivalent organizations in other States. Take the steps set out here to ensure you are capturing the information required:
In this document:
Setting up a Licence number category:

Go to Contact Categories in the Settings area of People and Companies (Contacts) and create a new category.  The category name should be a short abbreviation eg "LIC#".   Un-tick the "Remember Values"  tick box so you are not restricted to any options listed there.
Updating your customers' details:
Set the customers licence number in the Categories area using the category you created in step 1. Put a colon separating the value eg: LIC#:123456. Also ensure your have the customers' address set so you can filter only the customers that you need, e.g.: State "VIC"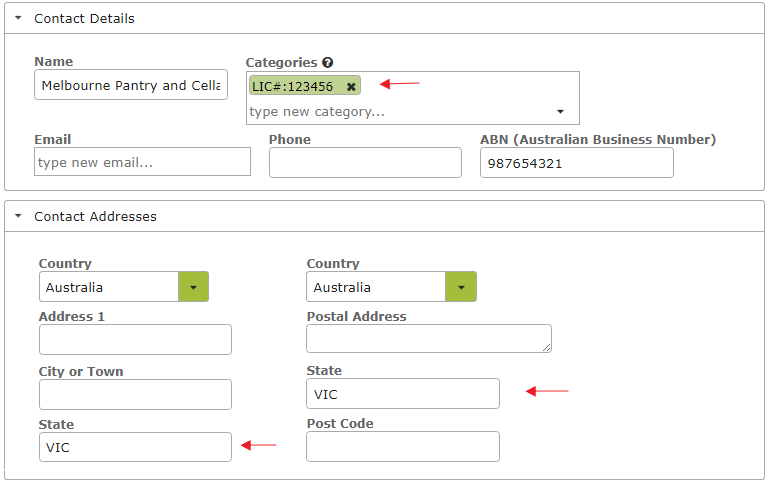 Set Up Product Categories
Go to Product Categories in the Settings area of Inventory (Count)  and create a new product category for each State that requires reporting. In the 'Values' area, list all the categories required by that State, separated by semicolons (;) as in the example below.
To help you set up these categories we have set out some Category values you can cut and paste below:
Northern Territory
;Wine Cask;Wine Bottled;Wine Fortified;Cider;Spirits Standard;Spirits Mixed Drinks;Beer Full Strength;Beer Mid Strength;Beer Low Strength;
https://nt.gov.au/industry/hospitality/wholesaler-liquor-registration/wholesaler-of-liquor-quarterly-returns
Victoria
;Beer Low <=48 Ltrs;Beer Low >48 Ltrs;Beer Medium <=48 Ltrs;Beer Medium >48 Ltrs;Beer Heavy <=48 Ltrs;Beer Heavy >48 Ltrs;Wine Small <2.0 Ltrs;Wine Large 2-20 Ltrs;Wine Bulk > 20 Ltrs;Wine Bulk For bottling elsewhere or blending;Fortified Wine Small <2.0 Ltrs;Fortified Wine Large 2-20 Ltrs;Fortified Wine Bulk > 20 Ltrs;Fortified Wine Bulk For bottling elsewhere or blending;Spirits Standard;Spirits Ready to Drink;Cider;
Western Australia
;Beer High;Beer Low;Wine High;Wine Low;Spirit;
http://www.rgl.wa.gov.au/liquor/liquor-returns
Note: 
This information was entered at the beginning of August 2017 and could change.  We did not find reporting requirements for Australian Capital Territory, New South Wales, South Australia, Tasmania and Queensland.  Please email us at
support@vinsight.net
if you are aware of any other reporting requirements we could include, or if you believe any of this information is out of date.
Add Categories to Stock Items
Add the relevant product categories to each Stock Item that you sell into that State.  In the following example we are setting up the 17 ABC Chardonnay Magnum for sale to retailers in Victoria and Western Australia.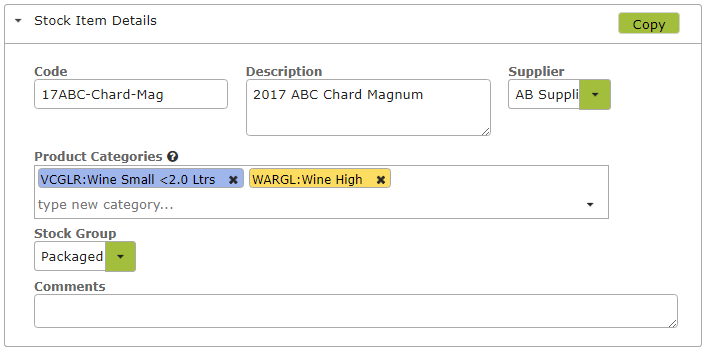 Create Report:
Now you should be able to run the Sales By Period Reports to highlight the sales you are interested in.   Ensure you filter for Customers in the relevant State.   Set 'Reporting Units' to convert sales to litres or any other common unit.  Use 'Custom' Grouping to group by and display the Customer's License Number.  You can download this report to a spreadsheet to manipulate it further and ensure it is in the format required by the particular State.
Click on the sales report below to view larger image.