Home » Stock Items – Brewery Examples
Overview
In this document:
Introduction
Everything you purchase and sell as part of your business should be set up as a Stock Item within Vinsight.  When setting up your stock items for the first time, it is fastest to import the data in bulk from a spreadsheet.   See Importing for more information on how to do this.
If you are unsure how to fill out any part of a Stock Item, (or any column of the Spreadsheet you are uploading through the importer) see the Stock Items  page for detailed, section by section explanations.
Example Brewery Stock Item Attributes
Stock Items are treated differently in the App depending on the attributes you set for them.  Some key things to remember when setting attributes:
Bulk Additive:  All ingredients/additives (e.g. Malt, Yeast)  should have this attribute set.  Only stock items with this attribute set will appear in the drop-down list of possible ingredients when creating a new brew, or adding an ingredient to a brew in the App.
Packaging:  All packaging items (e.g. bottles, caps, labels or cartons) should have this attribute set.  Only stock items with this attribute set will appear in the drop-down list of possible packaging when bottling or labeling a product in the App.
Packaged Item: This attribute should be set for all finished products that you produce, e.g. IPA-330ml-018, Stout-500ml.  This attribute is used in the App to distinguish the stock items you produce from those used as packaging or ingredients.
Can Purchase / Can Sell:  Setting the 'Can Purchase" or "Can Sell" attributes will determine whether these items will appear in the drop down lists for Purchase Orders or Sales Orders.
Track Inventory: Select the 'Track Inventory' attribute for any items, whose quantity in stock you wish to track.  These could be ingredients, packaging, finished items or any other sales or purchase items.
For example a typical ingredient might look like this: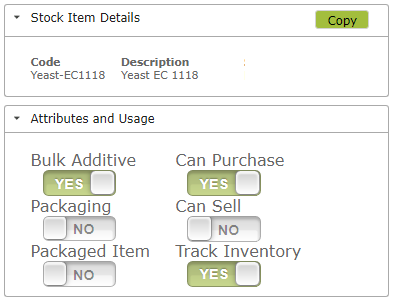 Whereas a finished product might look like this: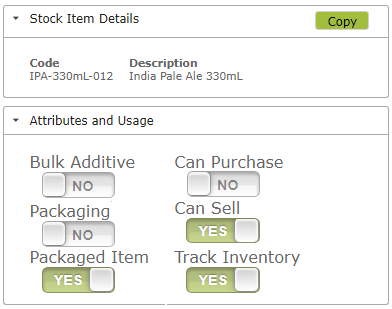 If a Stock Item is missing from a drop down list anywhere in the App, it will often be an 'attribute' issue.   If this happens to you, check that the stock item's attributes have been correctly selected.
Example Stock Item Brewery Conversions
If setting up a Stock Item for bottled 330mL IPA, your Units In Stock UOM (in the Inventory area) might be: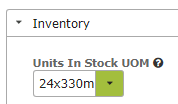 This unit of measure reflects the measure that you count the stock in if you were, for example, doing a stock take.  Here we count the product in stock in 24 x 330mL units.
The conversion rates for the same product might look something like this. . .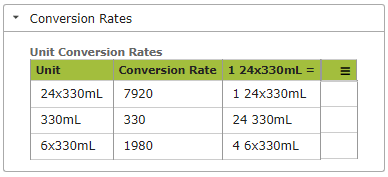 meaning that you sell this product in individual 330 mL bottles as well as cases of 6 and 24 bottles.  You should not, however, include any non-substitutable product in this conversion table.  For example if you also sold 12 x 330 mL cans  of the IPA, this product should be set up as a separate Stock Item.  (While a customer may accept 4 cartons of 6×330 mL bottles as a substitute for 1 24 x 330mL bottle carton, the cans would be regarded as a different product).
The Base UOM, Inner UOM,  Outer UOM  and Pallet Count are optional fields used for reporting.   The Base UOM is the primary product unit, the Inner UOM is the inner packaging size and the Outer UOM, the outer packaging size.   The Pallet Count is where you record how many units of the 'Outer UOM' packaging size fit on a pallet.  Example UOMs for beer might be:
Base: 330ml,  Inner:6x330ml, Outer: 24x330ml, Pallet Count: 50.
Ensure that you also set a conversion rate for any units of measure selected to be the Base, Inner or Outer values.
For an example of ingredient conversions see Stock Item Conversion Rates.
Example Stock Item Brewery Bill Of Materials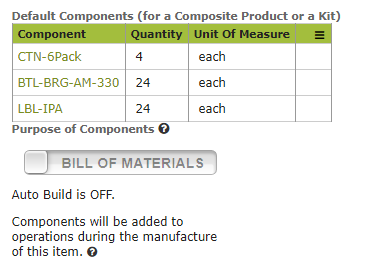 For more information, see Stock Items – Bill of Materials