Home » Managing Harvest Costs
Overview
When you buy fruit from another grower, you can connect this purchase transaction to your harvest entry so that the costs of that purchase are reflected in the fruit costs that flow through to your bulk product.
For the basic process, read about this here first: Linking Purchase and Sales Orders
However there are a number of things you can do to smooth and improve this process.
You can also store your agreed price per tonne in Vinsight for each grower and variety, even down to a per subblock level, and control when these prices are valid until.
In this document:
Purchasing Fruit from a Grower
When you are creating or linking a Purchase Order from your Harvest Entry, the app can try to find the most appropriate unit price and sales tax rate for that purchase order line item.
To do this you must defining a predetermine prices for stock items that are linked to the varieties.
How?
Create one or more Stock Items to represent each variety of grape you are selling and link them to that variety. If you are not going to create pre-determined prices, then you can save time by only having one Stock Item eg "Bulk Grapes". If you are planning on having pre-set prices, you might like to have a Stock Item per variety to make the maintenance simply or cleaner. Set the Stock Item against the variety in the Settings > Grow > Variety area of the app.

The Stock Item might look like this: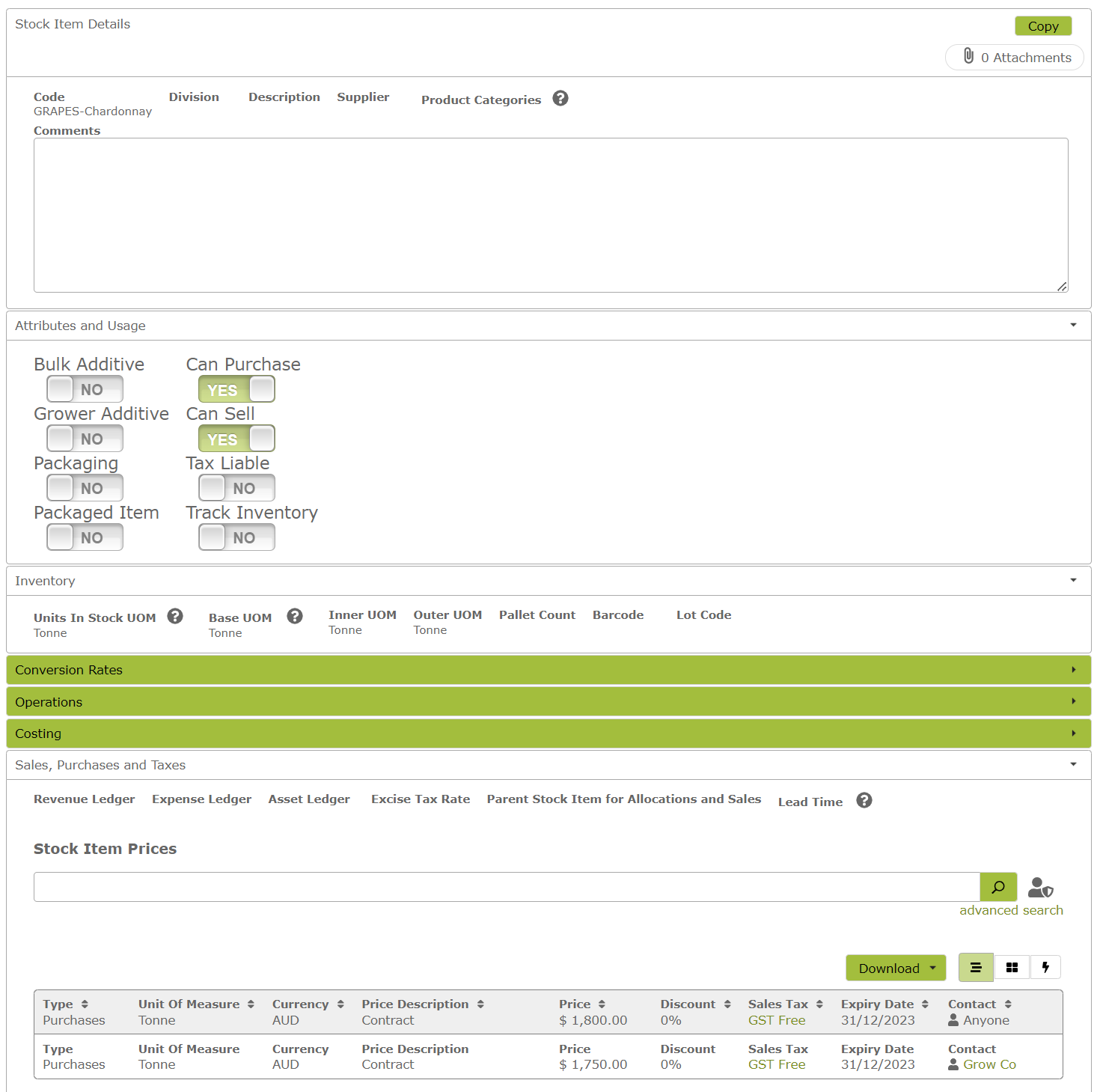 Notice in the Prices area in the above image, that the last column has a Contact option. This allows you have have a price for that supplier that is different to the standard price. Also note that you should choose the appropriate sales tax for grapes. If you generate a Purchase Order from a Harvest Entry, the system will attempt to choose the most appropriate price to save you having to choose it manually. Once last thing about the above setup, it that the prices can be set to expire, so if you just want to have a price for the current season, you can set it to expire at the end of the year or similar.
One final little help in the pricing area, is that you can set a price per subblock, there is no drop down list to help, so you will need to type carefully, but if use this format "subblock:subblockcode" then it will attempt to use that when searching for the best price e.g:


Payment Terms.
For a particular Supplier or Customer you can add default Payment Terms for them in the Contact page in the Ordering Details section. When a purchase order is created, it will default to using those payment terms of the supplier. See the example below: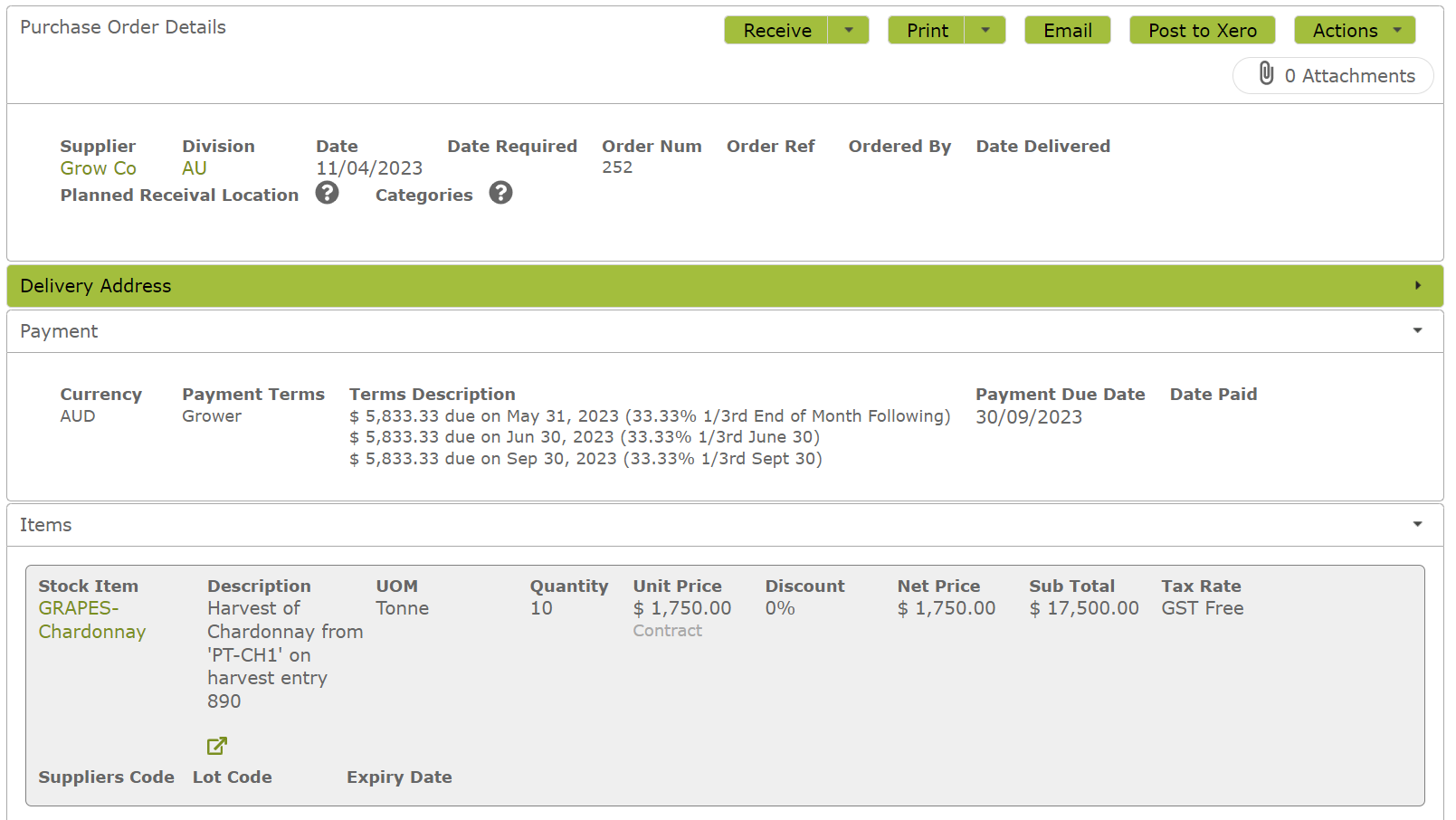 If you need help configuring these more complicated payment terms, get in contact with our support team.
Costing fruit from your own vineyard
When you own your own vineyards, you are likely to have accumulated spending on during the season that will reflect the cost of the fruit that you have harvested.

Your goal is to get a cost per harvest entry and using a cost per tonne to determine that. Generally this is going to be total tonnage divided by total costs, both of which you may not know until a month or so after harvest has completed.

The total tonnage will come from your Harvest reporting for your vineyard(s).
The total cost may come from your accounting system, or you may use from Vinsight features like the Grower Operations to determine this. In either case, you might expect to have a total cost sitting in a "Vineyard Work In Progress(WIP)" current asset account in your accounting system, that in turn needs to be reflected in Vinsight, then moved to your Bulk WIP asset ledger.

Once you have determined the cost per tonne for each Variety/Vineyard, you can update all your harvest entries in a spreadsheet and upload those to update the costs. Read the steps here to update and import your new costs: Editing Harvests. These new costs will flow through to your *current* blends or bottlings.

At this point, your tanks will have a value that now includes the value of your fruit, but your balance sheet may still have this part of the value in your Vineyard WIP asset account, so you will need to manually create a journal to reduce Vineyard WIP and increase Bulk WIP.