Overview
Shopify is a complete e-commerce solution that allows you to set up an online store to sell your goods.  It lets you organize your products, customize your storefront, accept credit card payments, track and respond to orders – all with a few clicks of the mouse.
Vinsight integrates with Shopify enabling you to track and analyse your Shopify data within Vinsight. Shopify orders automatically generate a Sales Order in Vinsight and automatically deplete Vinsight inventory.
In this document:
Integrating with Vinsight
Go to Add-ons in the Settings > Setup area.  Click the 'Setup' Button next to the Shopify logo.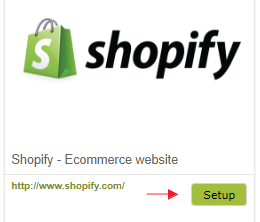 In the 'Shopify Store' text box, enter the ID of your Shopify Store.  For example if your shopify URL is test-store.myshopify.com, then this ID would be "test-store"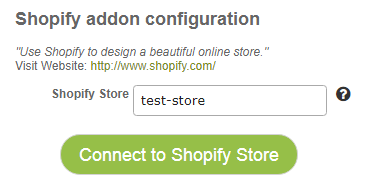 Click the 'Connect to Shopify Store' button.  This will take you to your Shopify Store login page.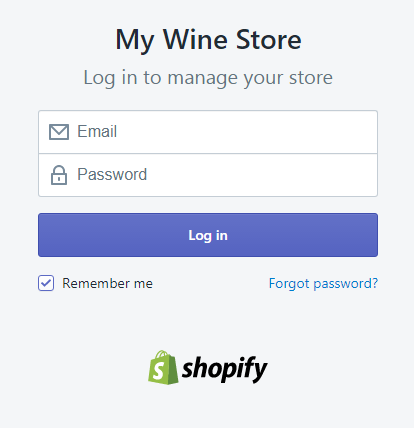 Enter your Shopify login details.  If your connection is successful you will see the following notification near the bottom of the Vinsight page:

Next select the location from the drop-down list, that your Shopify sales are fulfilled from to ensure that inventory is depleted from the correct location.  and indicate how you want Shopify Discounts handled.  Select:
'Discount Percent across order' (recommended for reporting) to apply any discount codes from Shopify as a Discount Percentage across each line item in the order, or
'As a separate Line Item per order' to apply any discount codes from Shopify as individual line items with a negative price

Your 'Shopify' sales will now be included in your Vinsight reporting and inventory tracking.
Optional – Match existing Products from Shopify to Vinsight
You may want to 'Match' your Vinsight stock items to those in Shopify in advance. However this is not necessary to get started, as matches can also be done later on, when orders are flowing through from Shopify to Vinsight.
Click the 'Match Stock Items' button.   This will take you to a list that shows your Shopify Stock Items on the left and potential Vinsight Stock Item Matches on the right.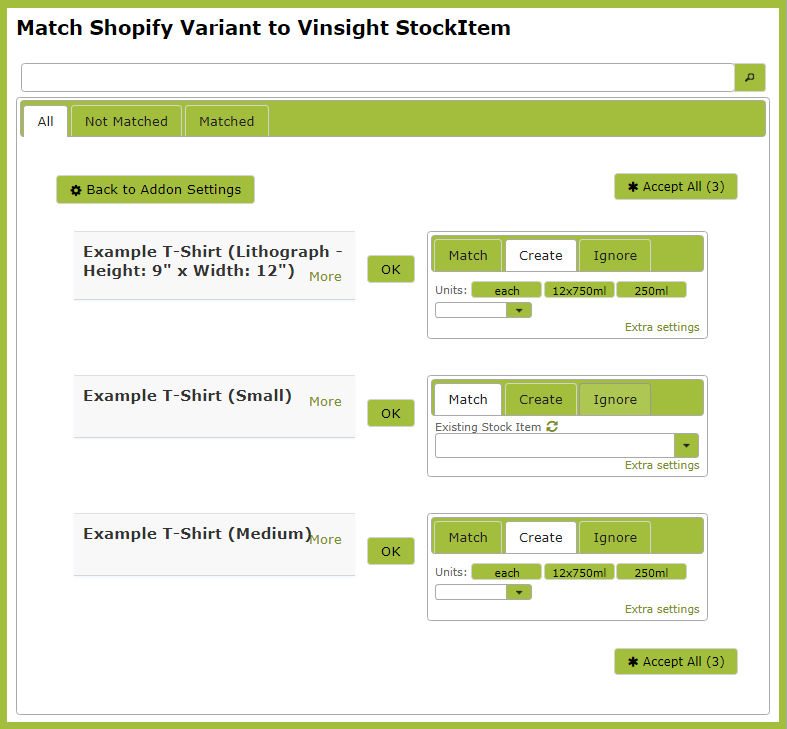 To Match to a Vinsight stock item click on the 'Match' tab and select the Vinsight Stock Item from the drop down list, then click 'OK'.

If a matching Vinsight Stock Item does not yet exist click the 'Create' tab, select the Unit of Measure from the options provided (or select a new unit of measure by clicking 'Extra settings') and  create a new Vinsight Stock Item from this page.
Matching new products, or as orders come in
If Shopify sends Vinsight an order with unmatched products on it, Vinsight will still import the order and you will see a new tab appear in your Sales Orders list, "Unmatched":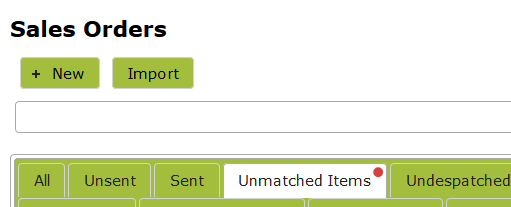 From this tab, you can open the Sales Order up and you will see some of the line items show with a new button "Match Stock Item". Clicking this button will start the matching process for the incoming Shopify product. Once a product has been matched, all other unmatched orders with the same incoming product will automatically be updated too, and the match will be remembered for next time so you only have to do this once per unique product.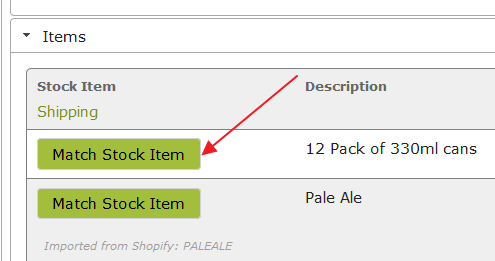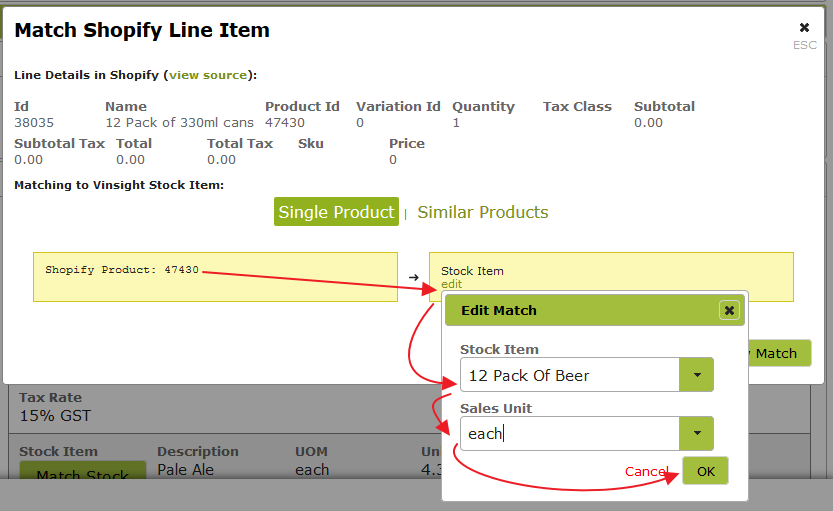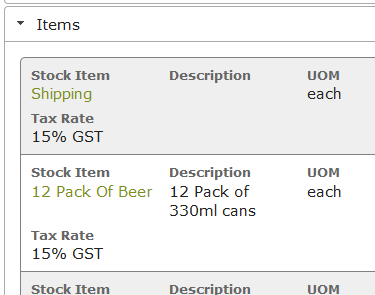 Troubleshooting:
To be immediately notified of failed imports, put your email address into the 'Email Failed Attempts' text field.

This will enable you to quickly identify (and hopefully rectify) any issues with the imports.
You will also be able to view Recent Activity in the Shopify Configuration.  In the following image, the Recent Activity Log indicates that an attempted import failed as the Shopify stock item "19PTCH'  was not matched to a Stock Item in Vinsight, and provides a link to where you will need to go to fix this issue.
This log will help you identify any issues you are having with your Shopify imports.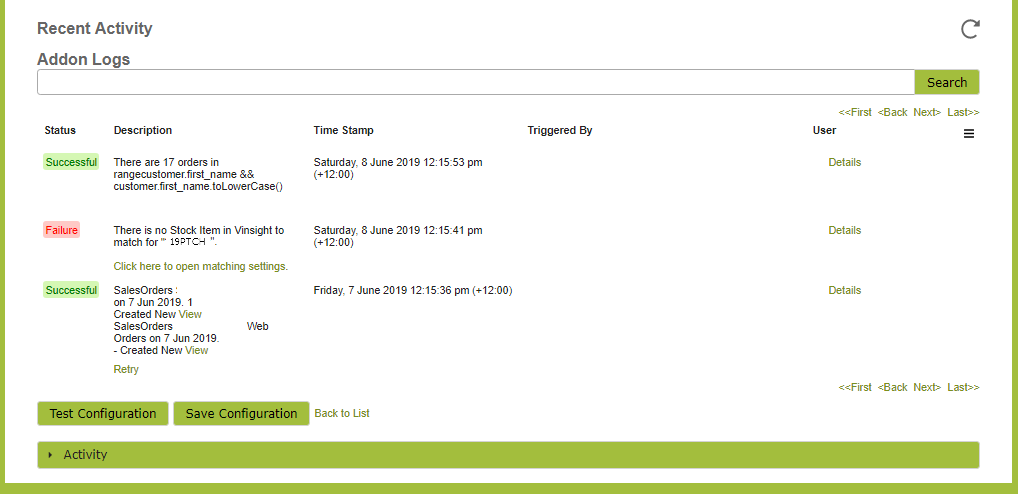 Taxes not coming through as expected:
Vinsight only replicates the sales taxes that Shopify is using. If you do not have your sales tax like GST, VAT or HST setup in Shopify then you must go and fix that first: