Home » Setting Standard Costs
Overview
Standard Costs form the basis of all product costing and valuation in Vinsight.  This cost is manually entered against each product, in the 'Costings' area of each Stock Item.  See below for information and tips on how to maintain an accurate 'Standard Cost'.
In this document:
Standard Cost of Purchase Items
The 'Standard Cost' of  a Purchase Item would generally be the price at which you purchase that item, together with any other set margins you want to include for cost of goods reporting per unit.  Set the 'Standard Cost' of each purchase item by going to the 'Costing' area of the Stock Item in question.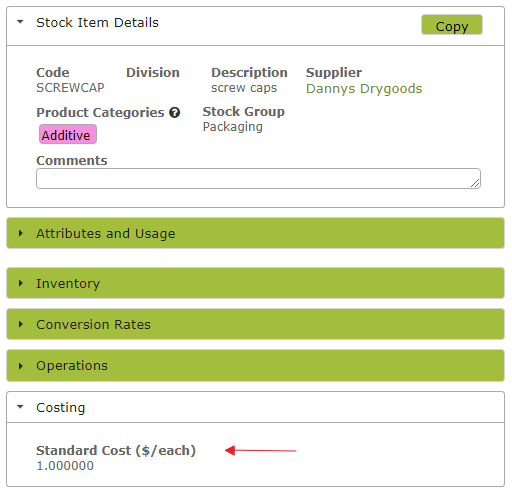 Using the Purchase Order system in Vinsight, helps you keep on top of the Standard Costs (as well as maintaining accurate inventory levels).  If you need to edit a purchase order to reflect a price change, this is a timely reminder that you may need to update the Standard Cost for this item.  Vinsight does NOT change the Standard Cost automatically.  You need to ensure that your Standard Cost fairly reflects the unit cost of those items you have in stock at any one time, as all reporting will use the current Standard Cost.
If there are one-off extra costs on an invoice received, that do not justify changing the standard cost,  the easiest way to deal with this might be to apply the extra cost using the overhead allocation features.  See Overhead Allocations.
Standard Cost of Finished Items
Determining the 'Standard Cost' of finished items is easy as the actual costs are tracked by Vinsight as the bulk product is processed, goes through the manufacturing process and is finally bottled to finished goods.
Once you have packaged and created the new Stock Item, you can view these accumulated costs by going to the 'Finished Item Components' area of the Stock Item and clicking the 'View Blended Composition' button.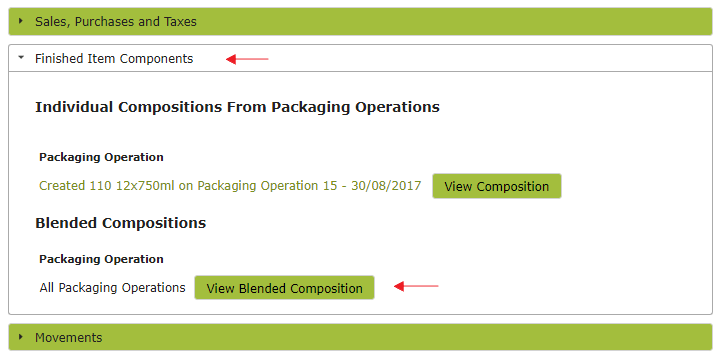 Once viewing the Blended Composition, click on the 'cost summary' tab.  This will show a summary of all costs accumulated for that product, broken down into its various components.   Sense check the number, then click 'Use as standard cost' to use this total as the 'Standard Cost' for your finished item.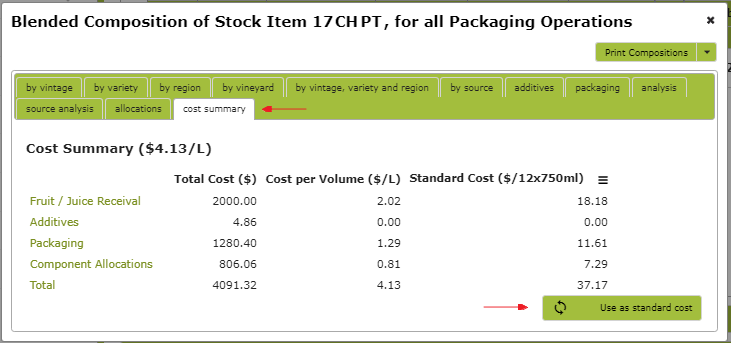 This total will then appear in the 'Costing' area of the Stock Item as the Standard Cost.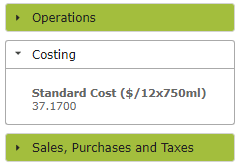 You can also view the accumulating costs through the production process, using firstly the 'Bulk Wine Cost Summary' report and then the 'Bottled Wine Cost Summary' report.