Overview
WooCommerce is e-commerce software that helps you sell online from your WordPress website.
In this document:
Connecting to WooCommerce
Go to Add-ons in the Settings > Setup area.  Click the 'Setup' Button next to the WooCommerce logo.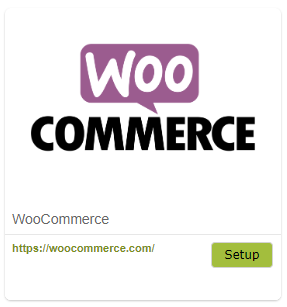 Enter the site domain (i.e. the one that Vinsight should use when connecting to WooCommerce).  If you operate more than one division, select the division you wish to  connect to WooCommerce.  You can have one connection per Division in your Organisation.  Select the time zone that you want scheduled jobs to run in.  This should be your own time zone.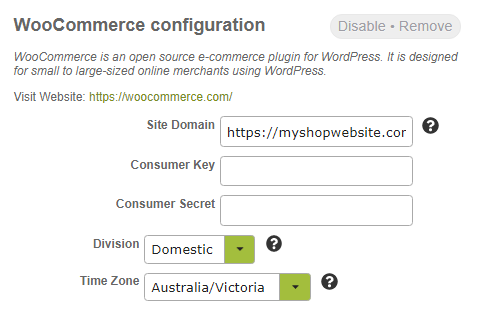 Log into WordPress, and on the menu in the admin area go to WooCommerce, Settings, Advanced.
Under REST API, create a new key

fill in the details similar to below: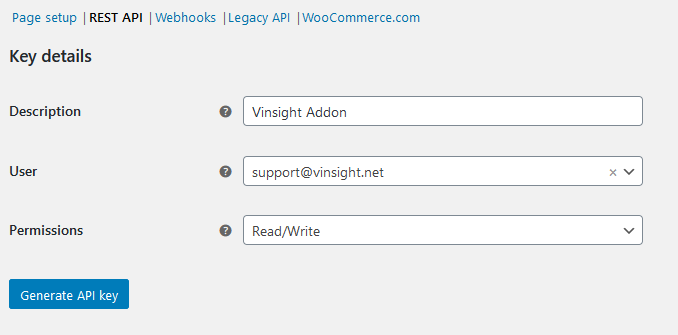 then generate the secret keys you will need to copy paste back to Vinsight.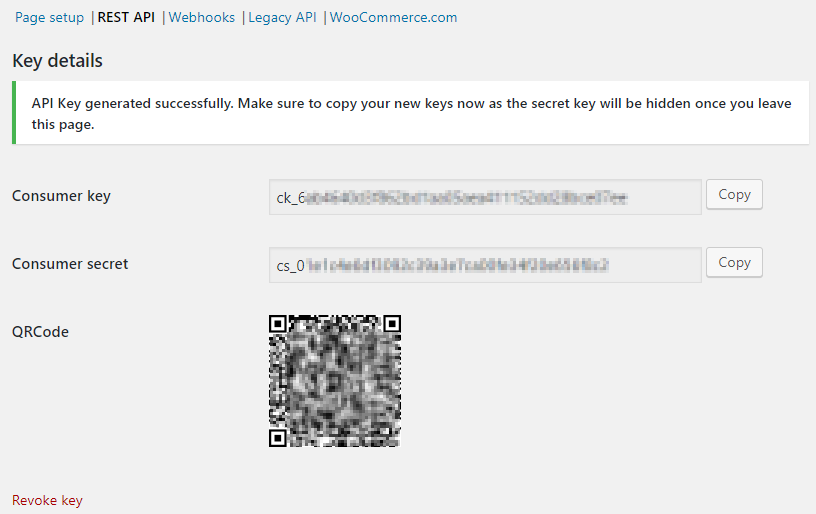 Paste  the Consumer Key and Consumer Secret into Vinsight here, and save the Integration settings.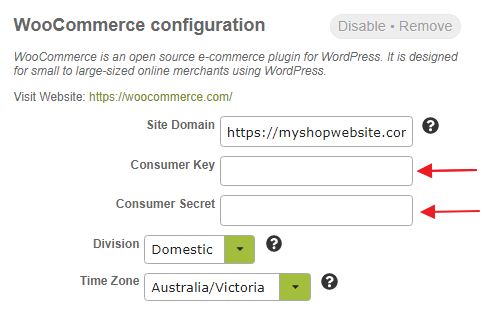 Once connected, you should be able to see the following extra options on the Vinsight – WooCommerce configuration page.  These options are dealt with in turn below the image.
Importing Sales from WooCommerce to Vinsight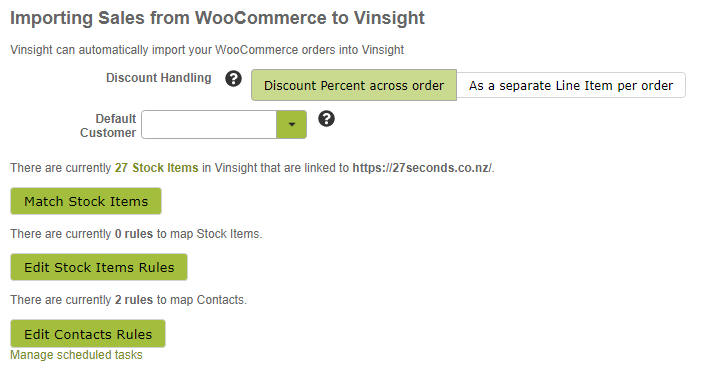 Discount Handling:
Select how you would like to handle discounts by choosing one of the following options:
Discount Percent across order:  This will apply any discount codes from WooCommerce as a Discount Percentage across each line item in the order.
As a separate Line Item per order:  This will apply any discount codes from WooCommerce as individual line items with a negative price.
Default Customer:
When we have to create a new customer from importing an order from WooCommerce, the new customer will have the same attributes (such as categories or Revenue Ledgers) as this selected customer.
Match Stock Items (optional):
Next you may want to 'Match' your Vinsight stock items to those in WooCommerce.
If you want to skip this step you can, Vinsight will always prompt you on an order to match individual items as you sell them if it does not know about them already.
Click the 'Match Stock Items' button.   This will take you to a list that shows your WooCommerce Stock Items on the left and potential Vinsight Stock Item Matches on the right.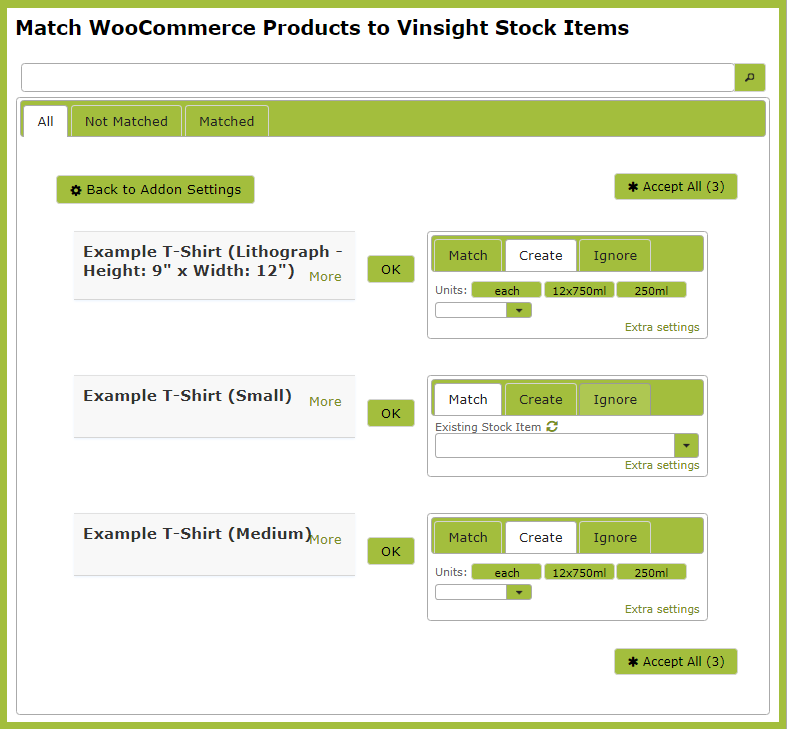 To Match to a Vinsight stock item click on the 'Match' tab and select the Vinsight Stock Item from the drop down list, then click 'OK'.

If a matching Vinsight Stock Item does not yet exist click the 'Create' tab, select the Unit of Measure from the options provided (or select a new unit of measure by clicking 'Extra settings') and  create a new Vinsight Stock Item from this page.
Administration
Finally ensure that you have the correct email addresses set up in the Administration section.
Email Summaries: Daily summaries will be emailed to the addresses provided here, giving an overview of orders that have been synced from WooCommerce to Vinsight.
Email Failed Attempts: Any errors that occur during the operation of this add-on will be emailed to any addresses listed here.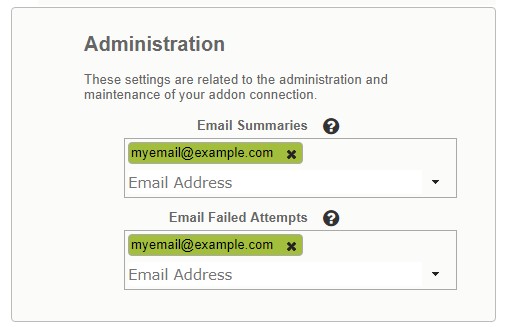 Once your Stock Items have been matched, and emails confirmed, set up is complete.  Your 'WooCommerce' sales will now be included in your Vinsight reporting and inventory tracking.