Overview
Allergens are important beverage ingredients that should be declared to customers for various health and safety reasons.
In Vinsight, we have recently begun to support Allergens in Stock Items as Product Categories and that information becomes available when you generate one of out new composition reports.
In the future we hope to support Allergen based warnings in Bulk Operations and other parts of Vinsight.
The Allergens workflow can be broken down into the following sections:
Creating and editing the Allergens Product Category
Go to the Product Categories List View in Vinsight.
Scroll to the bottom of the list to insert a new product category

Set the new Product Category Code to be exactly "Allergens".
Select the Is Multi Value option so you can have multiple allergens.
Populate the Values list with whatever allergens you want to record in Vinsight.
Select the Can Apply Multiple option so you can apply multiple allergens to the same Stock Item.
Finally click the insert button.

Your Allergens Product Category should look something like this:
Merging existing Allergen Product Categories together
If have already started to implement some kind of custom Allergens system using Product Categories, Vinsight has support for you to merge those into your new Allergens Product Category, conveniently updating all of the references in every Stock Item to match.
Simply select both the Product Category you want to become an Allergen and the Allergens Product Category:


Then click merge at the top of the list.

Choose Allergens to be the winner in the merge, so that none of your existing Allergens are destroyed and then click the merge button.
NOTE: This process is irreversible as some data is destroyed in the loser category.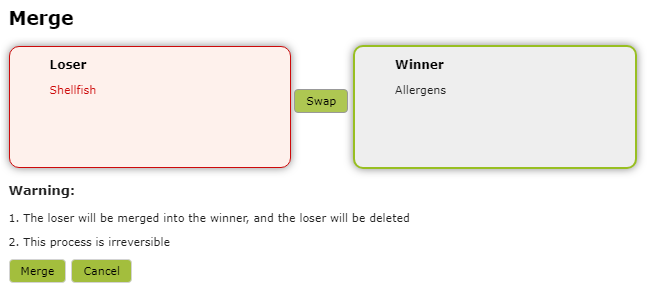 You should get the following messages if the merge is completed correctly

And the Allergens Product Category should now contain the now deleted Product Category

And any Stock Items with the loser Product Category will now refer to it as an Allergen value. (e.g. Allergens:Shellfish)
Adding the Allergen to a Stock Item Product Category
Open up any Stock Item and put it into edit mode, you can find the Product Categories in the detail view.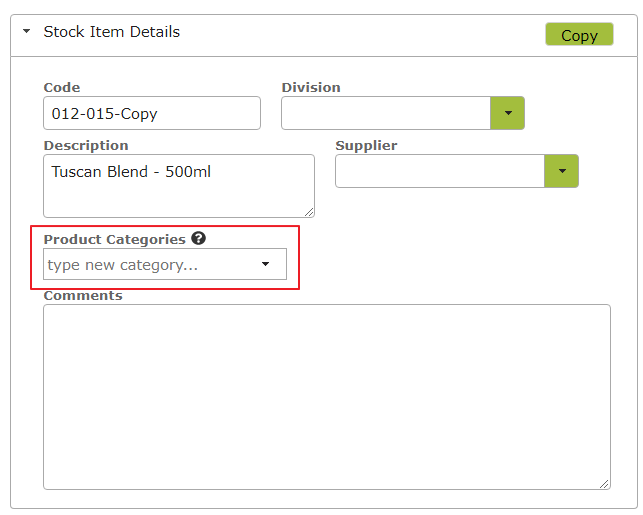 Search for, and select as many of the Allergens that are desired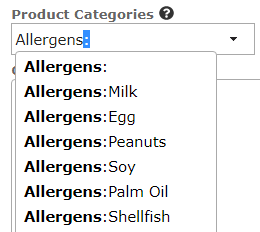 Don't forget to save your Stock Item!
These Allergens can now be detected anywhere the the Stock Item has been used.
Printing a Composition Report with Allergens
In depth instructions on how to use the composition report can be found here.
The key to leveraging your Stock Item Allergens is to make sure either the Additive Breakdown or Additive Allergen Statement are set to shown in your compositions report configuration.

The table below shows the Additive Breakdown, which by default shows any Allergens present in each Additive, while the statement lists all of the Allergens present in all of the Additives.