Home » Importing Sales Orders in to Vinsight from Nexternal
In Vinsight you can easily import your Sales Orders from a Nexternal account.
Exporting Orders from Nexternal
To export your orders from your Nexternal account, follow the instructions below:
Log in to Nexternal: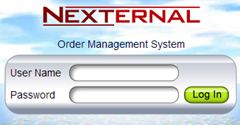 In the main menu on the left, click on the "Orders" section: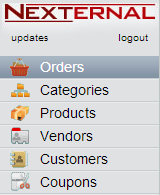 While you are looking at the Orders list, click the "Export" button at the top:

Under "Export Type", you will need to choose "QuickBooks Import (.iif)". You will also need to pick a date range to export: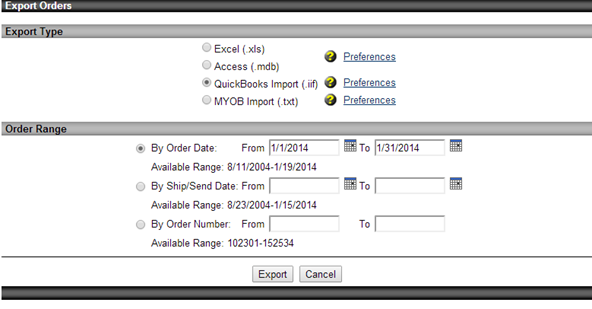 Click on the "Export" button once you're done.
When the export has finished, save the completed file by right clicking on the link and choosing "Save link as…". You should save it somewhere easily accessible, such as the desktop or your downloads folder: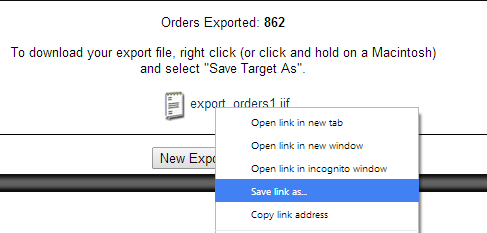 Once it has finished downloading, you will be able to use it in Vinsight to import your Sales Orders.
Importing Orders to Vinsight
To import the orders from Nexternal to Vinsight, you will need the file from the previous section "Exporting Orders from Nexternal".
Go to the Sales Orders list:

At the top of the list, click on the "Import" button: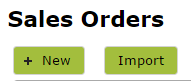 This will take you to the Sales Orders import page, where you can select the "Nexternal" option:

Now you can either drag and drop the file in to the grey area, or click the "browse files to upload" link and pick the file from where you downloaded it: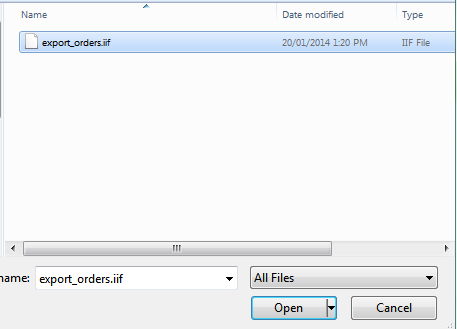 Once you have done that, Vinsight will get to work checking that everything is ok, and then show you a summary of what will be imported. You will see lists consisting mainly of Tax Rates, Contacts and Sales Orders. Providing everything is OK, you will see a nice big message at the top saying "Validation Passed". This means you are all good to start importing your Sales Orders:

Click on the button labeled "Import to Vinsight". You will see another progress bar, and when it's finished, a nice big green tick:


Now you can press "Continue" and check that everything imported correctly: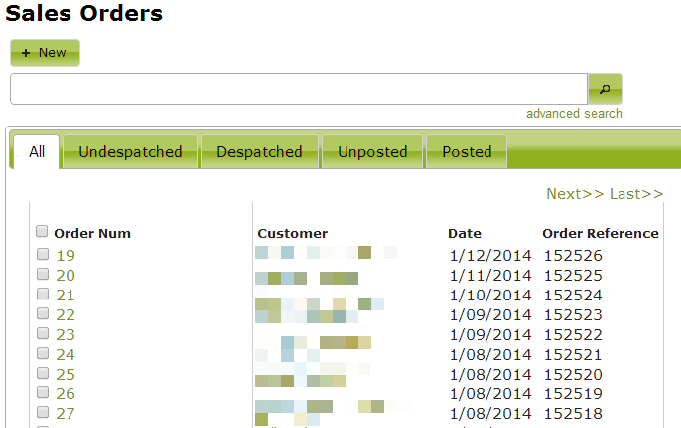 Finding the information you need
Now that you've imported all those Sales Orders in to Vinsight, you need to know how to find what you're looking for.
The easiest way to find anything is to search for it using the search bar at the top. You can type in part of a customer's name for example, or a particular order number or reference.
If you need to find something more specific, you can use the "advanced search" feature. Below is an example of what you might want to look for when using Vinsight:
How do I find orders that are being picked up from our tasting room?
If you have put your tasting room as the order address in Nexternal, you would be able to search for it in Vinsight:
Under advanced search, pick the first column to say "Delivery Address", the second column to say "contains" and then type in "tasting" in the third column:

Now pressing the "Advanced Search" below, you will search for all orders where the delivery address contains "tasting":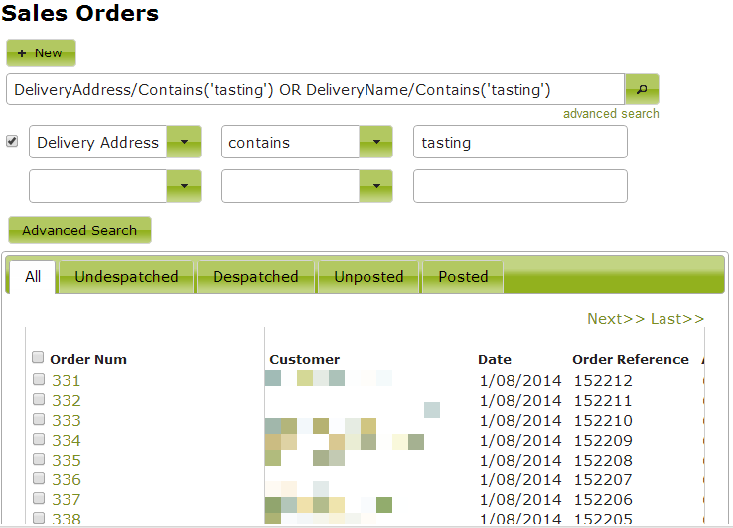 If you want to filter this further to show only those orders which have not been picked up yet, you can change to the "Undespatched" tab.